Summer 2023 Options for Teens
Hey Teens! Ready to choose your own adventure for the summer?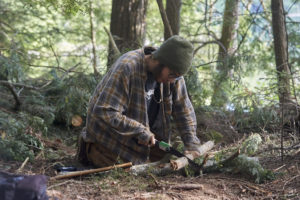 We've broken down Pine's teen offerings by age* and interest to help: 
If you're…
….13-14 yo (or younger!) and you're looking to escape overnight into Ontario's backcountry, learn new wilderness skills, and make some awesome friends
– Check out Red Wolf Overnight Camp (1-3 weeks in August, Haliburton)
….13-15 yo and you're seeking a day camp experience to explore Toronto's ravines, connect with other folks your age with similar interests, get crafty and learn new skills
– Teen Urban Summer Program is for you! (2 weeks in July, East and West Toronto)
….14-16 yo and you're keen to gain valuable leadership skills, guide children in their learning, and deepen your own wilderness and naturalist skills
– You're ready for Leaders in Training (LIT) program (2 weeks in July, West Toronto)
….15 or 16 yo, you love camping and canoeing, and you're looking for adventure
– There's no better fit than Red Wolf Voyageurs program
(3 weeks: August, Haliburton)
….17+ yo and you have experience in camp settings and/or backcountry that you're ready to share with others
– Consider becoming a Teen Apprentice at Red Wolf Overnight Camp (paid opportunity! 4 weeks: August, Haliburton)
Have questions? We'd love to connect. Email us at info@pineproject.org!
Regardless of the option you choose, we hope to see you this summer to get hyped about naturalist knowledge, work with our hands, and build a community that cares about each other and the planet.  
*Think of the age you'll be as of December 31, 2023!