Evidence shows that facilitated time in nature makes children happier, healthier and more engaged in learning. At Pine, we partner with schools to deliver outdoor experiences that enhance classroom learning and support the healthy development of the whole child. All while having a ton of fun! 
We have fostered rewarding partnerships with schools for over a decade. Recognizing that each learning environment is different, we work in close collaboration with schools to tailor-design programming that best complements their curriculum and meets individual classrooms' and students' needs. 
What you can expect at Pine: 
✔ 100% outdoor experience: Students have the opportunity to make nature their classroom for the day and apply their learning through hands-on experiences. Each season provides unique opportunities to integrate curriculum into outdoor experiences.
✔ Innovative mentoring approach: We adopt an innovative mentoring approach that integrates child-led experiential learning, visual and performing arts, mindfulness practices, loose parts play, and games. Instructors use students' natural curiosity as a catalyst to engage them in learning. Our innovative mentoring approach empowers participants to direct their own learning experience by personally engaging with nature.
Some of the key methods of instruction include:
Place-based: Fostering a sense of place by directly interacting with local heritage, cultures and landscapes.
Experiential learning: Learning through direct experience, hands-on skill development and crafting, and personal reflection
Inquiry-based: Encouraging participants to pose questions and actively seek their own answers
Play-based: Incorporation of self-directed and facilitated learning through play, including natural loose parts
Cross-curricular learning: Conscious design and integration of multiple subjects
Learn more about our approach here.
✔ Inspired programming that enhances classroom learning: Our programs intentionally mix emergent learning opportunities, exploration, the arts, and games to create experiences that are educational, engaging and fun! Our programming is linked to the Ontario curriculum to enhance classroom learning. Learn more about our programming here.
✔ Experienced mentors: Our Instructors have a wide range of expertise, including naturalist knowledge, wilderness skills, arts, history and education. They bring a shared passion for delivering inspiring outdoor experiences, and a commitment to Pine's values of life-long learning and community. Our Instructors are all first aid certified and have up to date background checks.
✔ Low instructor:student ratios: Thanks to low instructor:student ratios (typically 1:6 to 1:10), students benefit from personalized instruction and stronger connections. 
✔ Partnership: Our school partnerships are based on mutual respect and a shared commitment to student achievement and well-being. We work closely with principals and teachers throughout partnerships to tailor programming to individual class and student needs, and continually adapt and improve based on feedback. 
✔ Commitment to safety: We continuously review and adapt our health and safety procedures and emergency plans to ensure individual and group safety.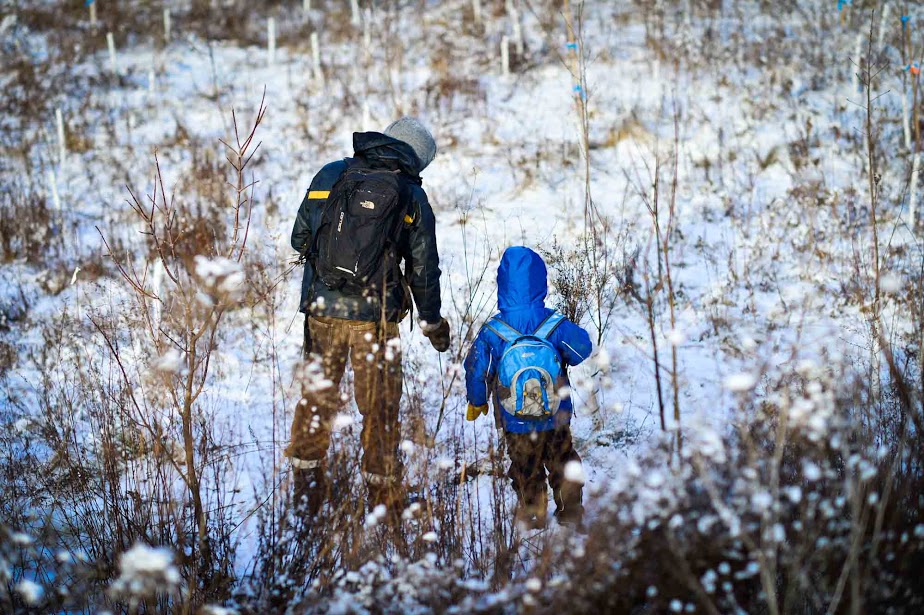 What teachers and parents are saying about Pine's school programs: 
"At a time when developing Global Competencies is increasingly at the centre of school curriculums around the world, the Pine Project has discovered a fun and impactful way of developing them through play and adventure. Their formula to connect with yourself, others and the environment can reach every person's heart, mind and body, and is the only "language" that all little ones can fully understand." – Parent of 2 elementary school students
"These students have a very deep love and respect for nature. They are also fiercely protective of it. I have to thank Pine for accompanying us all through the years. This is the way education should be, now more than ever." – Teacher, TDSB elementary school
"The children receive integrated curriculum designed specifically for each class in our school. Once children are outside and engaged in learning, anxiety settles and awareness takes over, and Pine staff are experts at engaging students' curiosity." – Teacher, TDSB elementary school
FAQs
How often do classes participate in Pine programming? Are one-time experiences/workshops possible?
We aim to foster long-term relationships between students, instructors and nature, so we love to meet with each class several times throughout the school year. 
We partner with schools to establish a program schedule that aligns with an individual school's calendar and interest. 
Please reach out to explore more together.
Where does programming happen?
We work with schools to identify a location that offers opportunities to connect with nature while also meeting the needs of the school, students and families. Programming may occur on school grounds, at one of our field locations (King's Mill Park in the west or Stan Wadlow Park in the east) or another available location.
How much do programs cost?
We partner with a diversity of schools and work together to establish scheduling and program design that best meets their needs. We are committed to working with schools to establish pricing that is reflective of the needs of their school and community, and does not pose a barrier to accessing our programming. 
Get in touch for an estimate based on your school's needs.
What is the process for establishing a school program partnership with Pine?
Like our programming, we adapt our partnership process to meet the unique needs and timelines of prospective schools. Here is a typical process*: 
A school administrator completes Pine's School Programs Booking Request Form to collect information on the school's interests, numbers, availability and other needs. *Completing this form does not constitute a formal agreement. It serves to indicate interest on the school's behalf and frame further conversation.

Given information collected via the booking form, one of our school leads enters into discussions with the school about what Pine is able to offer, potential program frequency/schedules and pricing options, and any questions. 

Once a tentative agreement is established between Pine and school administrators, if it's of interest, Pine holds a presentation and Q&A session for parents.

Given continued interest from the school and parent community, Pine and school administrators finalize details and enter into formal contracts. *Signed contracts and an initial deposit are generally required by June 1 for programs beginning the following school year. 

Planning meetings between Pine Instructors and the school's teachers take place in early September to fully integrate the school or teachers' curriculum into our programs.

Programs typically begin in October.
*If this process does not fit your interests, please feel free to reach out to our team directly at info@pineproject.org.
Do you provide snacks and lunch at your school programs?
The Pine Project does not supply food at programs. School classes must bring their own lunch, snacks and drinks (we encourage as litter free as possible, and they must be nut free). Please see the packing list within our Teacher & Caregiver Handbook for more information.