Day Camps (Ages 13 to 15)
Teen Urban Summer Program
In the Teen Urban Summer Program, teens get to experience the wilder side of Toronto city parks and develop their leadership skills. The program focuses on three main skill groups: Leadership and Mentoring, Wilderness and Survival Skills, and Naturalist Knowledge.
Registration for our 2021 Summer Day Camps will open on Wednesday, April 14th at 12:00pm (noon)! You can find more registration details below.
Our current camp plans are based on last year's Covid-19 day camp guidelines, with the understanding that we may need to adapt plans in response to evolving public health guidelines.* These plans include comprehensive Covid-19 safety policies such as daily screenings, physical distancing, masking, small group sizes, and enhanced hygiene and sanitation. Please review this Covid-19 Information document for further details.
*Pine camps will adhere to provincial and municipal public health guidelines as they continue to evolve. We're continuing to closely monitor for updates and we're dedicated to communicating any changes to families as quickly as possible. Our Summer Camps Covid-19 webpage will be updated regularly and registered families will be emailed directly. 
Last updated: March 31st, 2021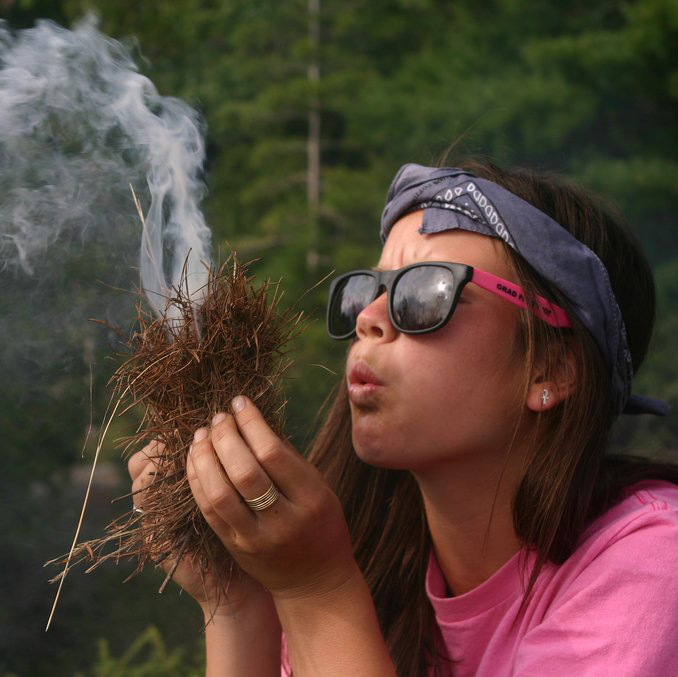 Leadership and Mentoring Skills:
Teamwork
Communication
Play, learn and lead numerous camp- and nature-based games and songs
Personal character development
Wilderness and Survival Skills:
Fire by friction
Local hazards (plants animals, insects)
Camp safety
Bushcraft: knots, tarps, ropes, wood
Wild edible and medicinal plants
Shelter building
Sensory awareness and sneaking
Leather making and working
Primitive tools such as bows, arrows, stone tools and more
Cordage (making rope out of plants)
Knives and carving skills
Naturalist Knowledge:
Plant identification
Wildlife tracking and observation
Learn bird calls and start to reveal the language of the birds
Learn to use field guides to identify and research
Develop personal nature goals
Get and use a 'sit spot' to learn more about the land
Mapping the local topography
Create and use a nature journal
Summer 2021 Details:
This is a day camp lasting two weeks. Sessions occur on a daily basis and run from Monday to Friday.
King's Mill Park
July 12-23
9:00 am – 3:30 pm - Full, waitlist availble!
August 9-20
9:00am - 3:30pm - Full, waitlist availble!
Price: $790
Bursaries are available through our Bursary Fund.
A $100 deposit is required upon registration. The balance is collected following acceptance. No payment plans will be available through the registration system. If payment in full creates financial hardship for your family, please reach out to our team at info@pineproject.org to discuss a custom payment plan. 
We recognize that navigating this year's many unknowns is difficult for families. Our cancellation policy is designed to provide flexibility in the coming months – families will receive a full refund, minus a $50 administration fee, for any cancellation made 28 days or more before the start of camp. Please review our full cancellation policy carefully before registering.
Registration
We'll be accepting applications to register for Summer 2021 starting on Wednesday, April 14th at 12:00pm (noon)! To view availability and apply to register after that date, click the Registration button below and complete an application.
*We follow an application to register process – families apply to register a camper and after brief review, we'll send you an email to confirm your acceptance or follow up with some additional questions.
*Please note: We offer pre-registration to returning campers before this public registration date. Therefore, we're not able guarantee availability at open registration. However, we encourage you to sign up to waitlists! We typically see some turnover before and during camp, and we'd love to let you know if a spot opens up.
Click here for registration policies.
Register