Overnight Camps (Ages 7 to 14)
Red Wolf Overnight Camp
Find yourself in the woods this summer!
Picture this: You're sitting around a campfire, nestled into a beautiful forest. Your belly is full of wild foods you foraged that morning. It's the first meal you've eaten with your freshly carved spoon and you're pretty proud. For a moment, your mind drifts to your latest project, a basket woven from the bark of a nearby birch tree. Suddenly laughter fills the space – your friends are sharing memories of games and canoeing earlier that day. When everyone goes quiet, all you hear is the crackling of the fire and loons calling in the distance. You take a deep breath: clean air and the scent of pine trees. You smile. You feel at home in nature, with these people. More calm, more confident, more happy, more healthy. More yourself. 
---
Welcome to Red Wolf Overnight Camp! If you're ready to sink into nature, try new things, form life-long friendships, and discover your full potential, Red Wolf is the place to be.
Nature-inspired transformation
Red Wolf is a transformative outdoor experience for kids. Campers have the rare opportunity to fully immerse themselves in wilderness. Living backcountry with peers and experienced mentors, campers explore the forest, learn new wilderness skills, play nature games, and more. They leave with a sense of accomplishment, self-confidence and resilience, life-long friendships, and a deep connection to nature.
Red Wolf is intentionally designed to inspire campers to embark on a pathway to leadership. Each year, campers incorporate more advanced skills and longer wilderness excursions to eventually enter Pine's leadership track, starting with our Voyageurs Program at age 15.
Home in the Outdoors
Red Wolf takes place in Ontario's beautiful backcountry*. Campers sleep in tents and are supported to combine minimal modern equipment with ancient technology. We welcome all campers, whether a tent is basically your second home or it's your first overnight outdoor adventure!
Adventure & Skill-Building
We fill our time…
Swimming
Canoeing
Hiking
Traveling through the wilderness
Making bows and arrows and learning how to use them safely
Fishing
Creating fires by friction (and cooking dinner over them!)
Carving
Building shelters (and sometimes staying in them overnight!)
Tracking wildlife
Foraging for wild edibles
Camouflaging with natural materials
Tackling awareness challenges
Playing games
Going on overnight excursions
While we encourage campers to try new things, all challenges are by choice and we support campers to make decisions that they are excited about.
For more information, check out our 2023 RED WOLF CAREGIVER HANDBOOK.
Have questions? Give us a call (416-792-2772) to chat about what Red Wolf life is like!
* Red Wolf takes place in the backcountry, with no running water, electricity, or permanent structures.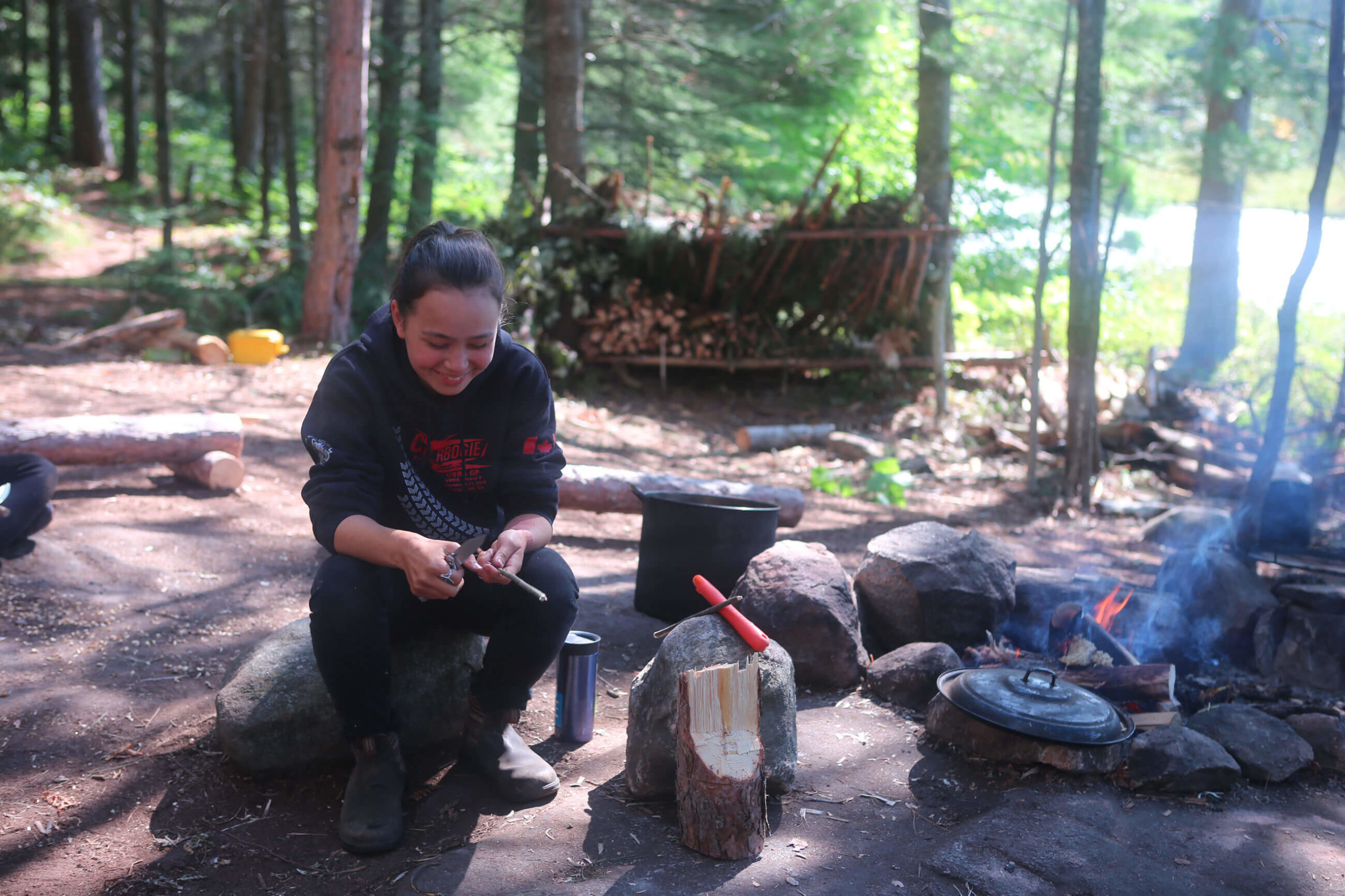 "Red wolf is a place where you can build a second family and create lifelong friendships."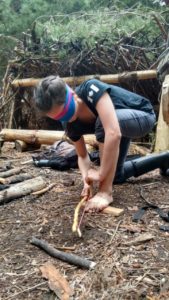 Meet Sophie. Sophie has been part of the Pine community for over a decade (since she joined as a Coyote Pup in 2009)! She first went to Red Wolf Overnight Camp as a 10 year old and has been going back ever since. Sophie gave us the inside scoop on the Red Wolf experience and shared some of her favourite memories.
"My favourite thing about Red Wolf is the community you build over the time you are there. Whether you're there for one week or three weeks, your group becomes your family. They will support you with whatever you need. Living out in the woods for a week requires teamwork and cooperation, and those things make for the best bonding experience."
Read more about Sophie's experience.
"For me, Red Wolf is the best way to spend time in nature."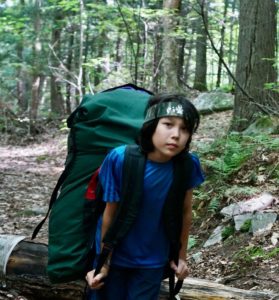 Meet Zac. Zac has been part of the Pine community since he was just 4 years old. He first went to Red Wolf Overnight Camp as an 8 year old and was hooked. He shared some insights and memories from his time at Red Wolf.
"I would tell my younger self that Red Wolf will be some of the best weeks of my life. The sense of community is so welcoming and the leaders will teach me so much. I'd say that Pine will go on to have a massive impact on my life and who I am as a person."
Read more about Zac's experience.
"I learned not to be afraid."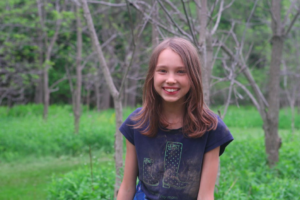 Meet Lexa, a kid with a sweet tooth, a snuggly demeanour and the skills to light a fire quicker than your dad. Lexa was convinced to go to the Pine Project's Red Wolf Overnight Camp because she gets to do her favourite things every day for an entire week, and she gets to have a sleepover every night with her friends. After her first year, Lexa left feeling more confident.
"It makes me feel like I can do anything. I feel different. I'm not sure people notice a change, but I think that they probably do." When asked what she learned, Lexa replied, "I learned not to be afraid."
Read more about Lexa's experience.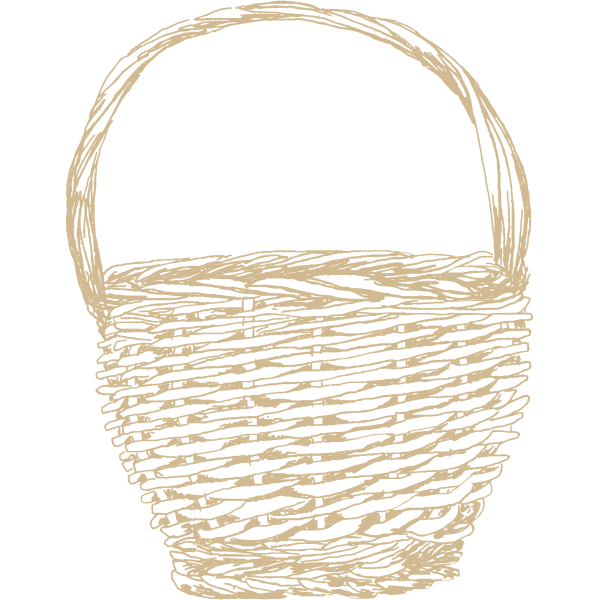 My kids have been attending Pine camps for the last 7 years. For my older child especially, the experience has been a foundational one. Much of his sense of self, confidence, and pride comes from his time at Red Wolf. Over the years, he's stretched his boundaries and achieved things he didn't know he could. Now, as he continues to learn, and in turn share what he's accomplished with the new generations of campers, the impact of the program on his feelings of self-worth is even more obvious.

— Parent of two Pine campers
Summer 2023 Details:
Registering by age: To ensure kids of all ages are able to join us, we'll be registering campers by age ranges. However, individual camp groups will be created closer to the camp's start date and will allow for some mixing between these age ranges. As always, we will do our best to accommodate friend requests, but we cannot make guarantees.

This is an overnight camp lasting one week, with three different sessions available.
Haliburton Forest & Wild Life Reserve, Haliburton, ON
Price: $1,145/week
All ages (7-14) are welcome to register for any week. Returning this year, we're offering a group for girls, open to anyone who feels like they'd thrive in this setting! The group will take place during the first week of Red Wolf for those ages 11-14.
A $300 deposit/registration is required upon registration. The balance is collected following acceptance either in full, or a payment plan is available. If needed, please reach out to our team at info@pineproject.org to discuss a custom payment plan.
Bursaries are available through Pine's Bursary Fund.
Pine is an Amici Partner Camp! Amici sends children, ages 7 – 17, from low-income households to overnight summer camps across Ontario. Learn more.
Multi-week discount*: Stay for more than a week and get $50 off each additional week. 
2 Weeks: Use the code "RW2WEEKS" ($50 off) when registering

3 Weeks: Use the code "RW3WEEKS" ($100 off) when registering
*Not applicable to Voyageurs
Sibling discount: Register more than one camper and save $25 on each additional sibling.
Applied automatically when registering (Full price for 1st camper; $25 off for 2nd/3rd/etc. camper)
* This is an overnight camp. Drop off and pick up occurs at the beginning and end of each session.
Drop off is on Sunday (drop-off times will be staggered) (Aug. 6 / Aug. 13 / Aug. 20)
Pick up is on Saturday (pick-up times will be staggered) (Aug. 12 / Aug. 19 / Aug. 26)
Pine will provide transportation from the drop-off location (Base Camp) to the campsites.
Please review our full cancellation policy carefully before registering.
Registration
We'll be accepting applications to register for Summer 2023 starting on Wednesday, November 9th at 12:00pm (noon)! To view availability and apply to register after that date, click the Registration button below and complete an application.
*We follow an application to register process – families apply to register a camper and after brief review, we'll send you an email to confirm your acceptance or follow up with some additional questions.
*If you anticipate a disability creating a barrier to completing our online registration process, please contact our office prior to the registration date.
*Please note: We offer pre-registration to returning campers before this public registration date.
Click here for registration policies.
Register