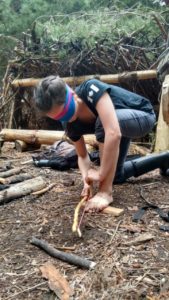 We're excited for you to meet Sophie! Sophie has been part of the Pine community for over a decade (since she joined as a Coyote Pup in 2009)! She first went to Red Wolf Overnight Camp as a 10 year old and has been going back ever since. Sophie gave us the inside scoop on the Red Wolf experience and shared some of her favourite memories.
What draws you to Pine? Why do you keep coming back?
When I was younger I think it was because I enjoyed being outside, and getting to play and wander throughout the park. As I got older, it became more about my interest in nature skills, getting to escape the city with the Adventure Out program, and getting to see my friends. Most recently what draws me to Pine is the community. So many of the Pine staff and older participants are people I've grown up knowing. They've become my family in a way. So I come back for the community, and to learn about mentorship. 
What do you like most about Red Wolf and spending time in the woods?
My favourite thing about Red Wolf is the community you build over the time you are there. Whether you're there for one week or three weeks, your group becomes your family. They will support you with whatever you need. Living out in the woods for a week requires teamwork and cooperation, and those things make for the best bonding experience.
My favourite part about spending time in the woods, whether it's camping with my family or at Red Wolf, is the self-reliance. You're not reliant on electricity or cars or the internet. Everything you do you have to do or make yourself, which is a really gratifying experience. 
What was the Red Wolf experience like as a girl? Why do you think more girls should have those experiences?
I think Red Wolf (and Pine in general!) is an amazing place to grow your confidence and communication skills. In my opinion, communication is a really important skill for women, especially young girls, to have. Pine is a really good place to learn to communicate in a safe environment, with support from leaders who want to help. 
Red Wolf is an amazing place for young girls to see girls and boys in an equal environment, and to see strong, confident women. There are so many amazing role models at Red Wolf and in all the Pine programs for young girls. I hope everyone has the opportunity to spend a little bit of time with them.
What's a memory that sticks out from your time at Red Wolf? 
I have so many memories! But I'll pick two. One is from my first year in the teen group, I think I was twelve turning thirteen. Most of my group had gone to play a game in the woods, but three of us had stayed behind. It was raining that night, and we hung out around our fire, eating ramen and staying dry under our very elaborate tarp set up. Right when the rest of the group got back, the whole tarp set up just collapsed. Without really figuring out what we were going to do, the whole group worked together in the pouring rain to get the tarps back up. It was really amazing to see how hard everyone worked, and how everyone knew exactly what needed to be done, without having to be told.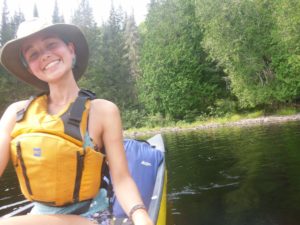 My second memory is from our Voyageurs trip last summer. On our second to last day of the trip, at about 2 or 3pm in the afternoon, we learned that we would have to paddle all the way out that day to support a team member. It had already been a long day, with rain in the morning, and we were ready to be done. Despite being tired, as soon as we learned that this person needed us, everyone rallied together and found their last bits of energy. Our group had become such a family, that if one person needed something, the whole group would work to help them. We were able to get out in really good time. Everyone worked as hard as they could for someone they cared about.
What have you learned from your time at Red Wolf?
Resilience: I've learned how to push through and complete something even when it's hard or it's something I don't enjoy.
Skills: I've learned to make a fire in under 5 minutes, and in pretty much any kind of weather. Sometimes by only rubbing sticks together! 
Teamwork and leadership: I've learned how to work together with others to achieve a goal, and how to lead a team of people with respect and kindness.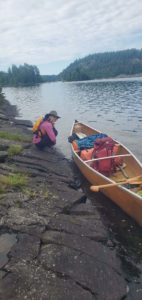 Why should kids come to Red Wolf? 
Red Wolf is a place where you can learn pretty much anything you want. Even if the leaders don't know how to teach you, they will support you in figuring it out. Even if you're scared to be away from home and worried you'll miss your parents, by the end of the week you will be so happy you came. Every single person wants you to be there and will support you in any way they can. Red wolf is a place where you can build a second family and create lifelong friendships. The challenges that you go through with your group will make your bonds stronger, and help you to become a more confident person.
When you're not at Pine, what do you like doing? 
When I'm not at Pine I do a multitude of other things. I am a dancer, dancing at a studio and at school. I train in tap, ballet, musical theater, and contemporary, and dance is one of the things I love most in the world. I am also a member of Girl Guides of Canada and Scouts Canada, and am a cub scout leader, working with kids aged 7-9. At home, I enjoy reading, baking, music, and spending time with my family. I also love canoe tripping, and have done canoe trips in Temagami and on the Dumoine River. 
What's one fun fact about yourself? 
I want to be an elementary school teacher. I love working with kids, and passing on my knowledge.