Day Camps (Ages 4 to 13)
March Break Day Camp
Pine's March Break Day Camp is all about having fun outside in any weather! March Break falls in a magical time right before Spring Equinox, when we are saying goodbye to the snow, watching things melt, and welcoming the surge of life to come.
Being outside through this Spring season of change can bring lots of mysteries to light – When are red-winged black birds coming back? Are the woolly bear caterpillars awake from hibernation yet? What tree will be the first to unfurl its leaves? Campers will get the chance to explore city parks, play nature games, learn new wilderness and naturalist skills, and connect with their peers. Join us as we explore all this season has to offer!
For more information, check out our 2023 MARCH BREAK DAY CAMP HANDBOOK. Details may change, but we hope that the 2023 Handbook can provide you with a good idea of what families can expect.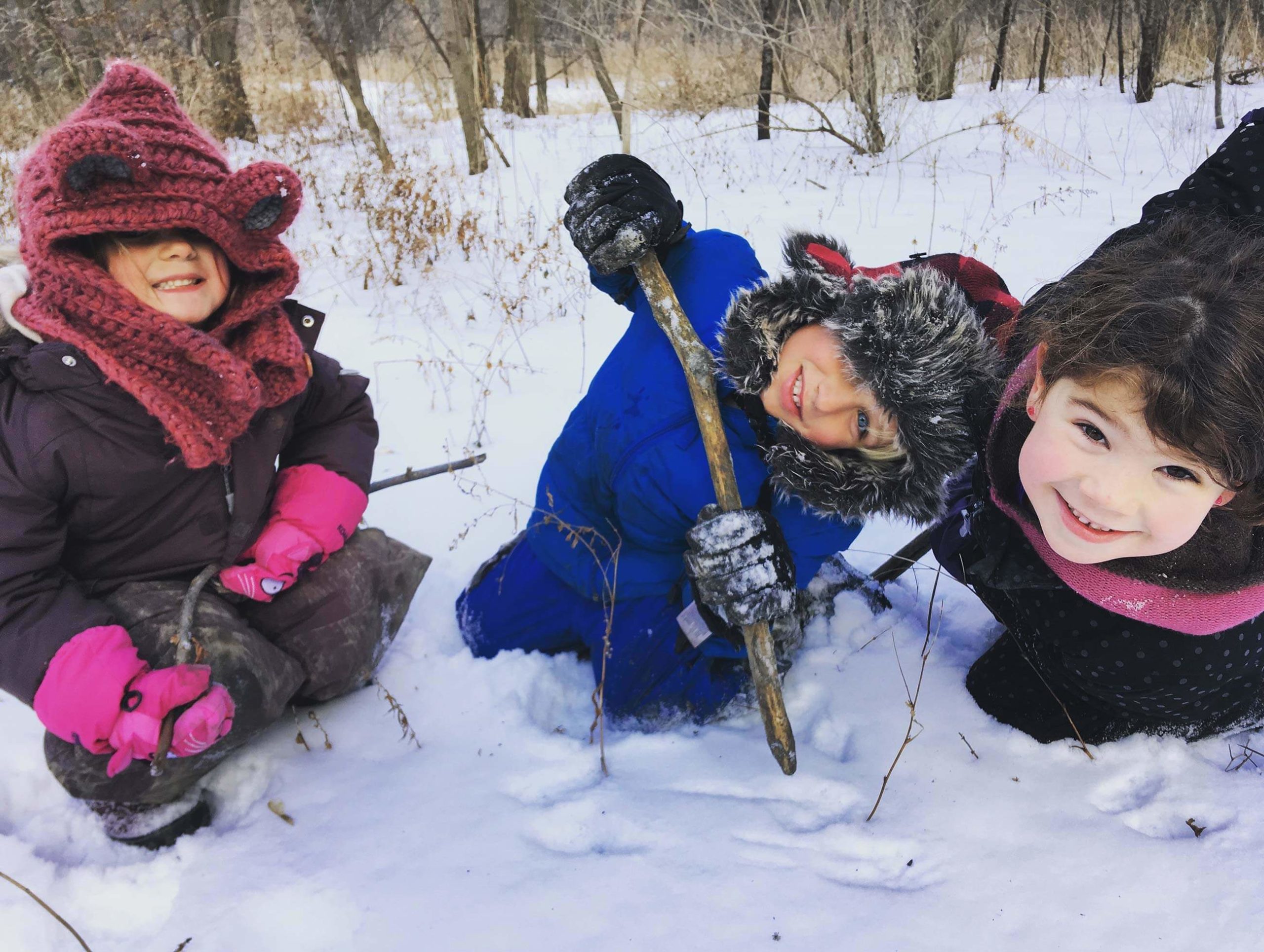 Content highlights:
Wild plant and Tree ID basics
Wildlife tracking in snow or mud
Birds and bird language
Environmental stewardship
Identifying natural and human-made hazards
Storytelling, art and theatre
Wandering adventures
A variety of wilderness living and naturalist skills
March 2024 Details:
This is a day camp running daily Monday-Friday during one week in March. Before and after care are not offered for this camp.

Registering by age: To ensure kids of all ages are able to join us, we'll be registering campers by age ranges. However, individual camp groups will be created closer to the camp's start date and will allow for mixing between these age ranges. As always, we will do our best to accommodate friend requests, but we cannot make guarantees.
EAST END: Stan Wadlow Park
March 11 - 15
9:00am - 3:30pm
Price: $425
WEST END: King's Mill Park
March 11 - 15
9:00am - 3:30pm
Price: $425
Bursaries are available through our Bursary Fund.
A $100 deposit is required upon registration. The balance is collected following acceptance. No payment plans will be available through the registration system. If payment in full creates financial hardship for your family, please reach out to our team at info@pineproject.org to discuss a custom payment plan.
Please review our full cancellation policy carefully before registering.
Registration
We'll be accepting applications to register for March Break Day Camps starting on Wednesday, December 6th at 12:00pm (noon)! To view availability and apply to register after that date, click the Registration button below and complete an application.
*We follow an application to register process – families apply to register a camper and after a brief review, we'll follow up if we have any additional questions.
*If you anticipate a disability creating a barrier to completing our online registration process, please contact our office prior to the registration date.
Click here for registration policies.
Register