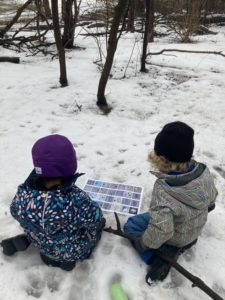 March Break Day Camp 2022 was nothing short of ✨ magical ✨.  In true Toronto fashion, March managed to fit all the seasons into one week – warm, cold, rain, snow, sun – we had it all! We loved guiding campers in finding excitement, beauty, and wonder in the many changes (and sometimes challenges) that nature offered.
Instructors from a Raccoons group shared a reflection on the week that sums it up perfectly:
On the first day of March Break Day Camp, the Raccoons group came together as a jumble of individuals, uncertain about what lay ahead: Will we make friends? Will there be challenging weather? Will we have fun? We quickly found that our shared passions and curiosity would form the basis for a group that would laugh, play, wonder, seek, question, track, and grow so much together. Building routines around gratitude, sharing from our heart, singing together, exploring and being kind stewards of the land guided our time.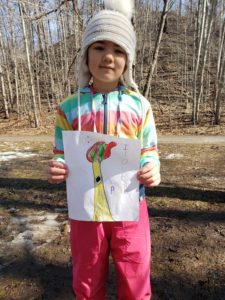 There were too many highlights to name – forming new friendships, birch bark mask making and decorating, discovering spring "firsts" like beetles and bees awakening, games of stealth and sneaking, reading stories (including 'The Year the Roses Died' story in "Plants Have So Much to Give Us, All We Have to Do Is Ask: Anishinaabe Botanical Teachings" by Mary Siisip Geniusz and "The Lorax" by Dr. Seuss) that encouraged reflection and inspired us to do our part in removing litter from the park, and of course, running and exploring and silliness galore. These are the connections and memories we ultimately left with.
Thank you to all who made this week so special,
Alexis, Clare and the Raccoons
Here are some of the other adventures from camp!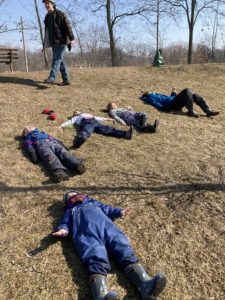 ❄️  With a chilly start to the week, we focused on practicing survival skills, making heat with our bodies, and playing active games.
💧 We got to witness changes in the river as the week went on, inspecting ice blocks especially closely.
🌳  Storytime included readings from "Braiding Sweetgrass" by Robin Wall Kimmerer. Groups discussed the story of Skywoman Falling, asking questions like: What does this mean to you? What lessons might this story offer? After some thought, some campers shared: "I can learn that you can help people, even if it's a big bully, you should help them if they need help." and "I think I can learn that, y'know how there's a tree here and a tree there, maybe we're all a part of something. What if we're all a part of the same thing?"
🌲  Some campers got to meet a tree! Getting into pairs, one person closed their eyes while the other guided them to a tree that they could then explore with all their senses but sight. After being led away again and opening their eyes, they were challenged to find the tree they had met.
📜  A Raccoons group drew themselves as a tree and wrote little notes to Pine. Thank you for your kind words campers!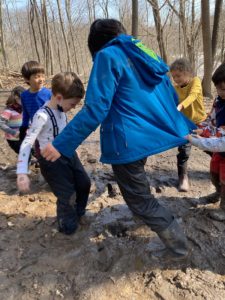 🐦  Many campers did sit spots, staying extra still to offer seeds to returning birds. There was much excitement around the many birds who are already back, like red winged blackbirds and grackles.
🔪 Carving was a big highlight of the week, with many kids carving for the first time. Mumbly pegs, spoons, and beads were favourite projects.
🦝  On our final day of camp, we celebrated each other's gifts through Nature Names. Many kids who have been attending camp for years brought stories of all their different names and how much each name means to them.