2021 was yet another year filled with change and challenge. But the year also brought learning, growth and widespread reconnection with nature. The benefits of outdoor learning and connection were brought to the forefront. And we got to be leaders in that change.
We are immensely grateful and humbled to have had the chance to support discovery and growth in nature. Thanks to you, our community, we were able to overcome each new roadblock and help children build connections when they needed it most. Here are a few of the accomplishments you've made possible: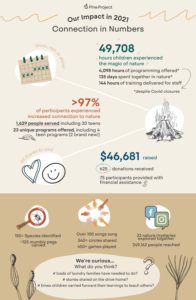 We are so GRATEFUL for our community for making this work possible. For supporting children to connect, explore and grow in nature.
We are proud of the impact we've had on hundreds of families. Yet, the past couple years also highlighted areas for growth, none as important as growing towards being a more just and equitable organization. We continue to advance the work highlighted in our first DEI Progress Report and are grappling with questions around how we can support more children to access the benefits of nature connection. We look forward to continuing down this path together in 2022.