As I reflect on this past year, one thing is clearer than ever – Connection is critical to who we are and how we navigate life. The connections we form with ourselves, others and nature make us who we are. They guide how we see the world. They determine the impact we have on our community. 
We all create connections in different ways, across many life stages. But what stands out is how the connections we build in childhood form the foundation for who we become as adults. Did you have a role model growing up? Perhaps they inspired your current life path. Do you have memories of climbing trees in your local park? Maybe that's why you care about climate change. Remember a time you achieved something that was really hard? That confidence likely shaped how you confront other obstacles.
At Pine, connection is at the very core of everything we do. We help children to build connections that foster empathy for all living things, support confidence and resilience in the face of challenge, and inspire curiosity and creativity. Over the past year, we've seen the difference these connections can have for the 1,000+ children we've welcomed to programs.
Béatrice had never attended camp before, and had not done a full day out of the house since Covid arrived, but she came home each day full of stories, bursting with confidence and pride, and so very muddy! In this short time, Béa has grown through the kindness, mentorship and dedication of the Pine instructors. Béa now sits in the back yard and builds homes for ants, asks us to be careful with bugs so as to not hurt them, sings us songs, and teaches us how to play games. Thank you, Pine, for supporting my daughter in such a positive way.  – Megan, parent of Béatrice (age 4), 2021 camper
Imagine how that level of empathy, to care for ants, may continue to guide Béa in her everyday interactions. As Béa and other children grow, they carry these connections to people and nature with them. And as these connections strengthen and build on one another, they become happier, healthier, smarter, more compassionate human beings. 
When we begin to understand connection in this way, we realize –
Connection is a core human need. Every child needs these opportunities to connect. As we look towards 2022, our goal is to grow our ability to reach all children in our community, especially those in underserved communities.
Here are some of the many questions we're grappling with: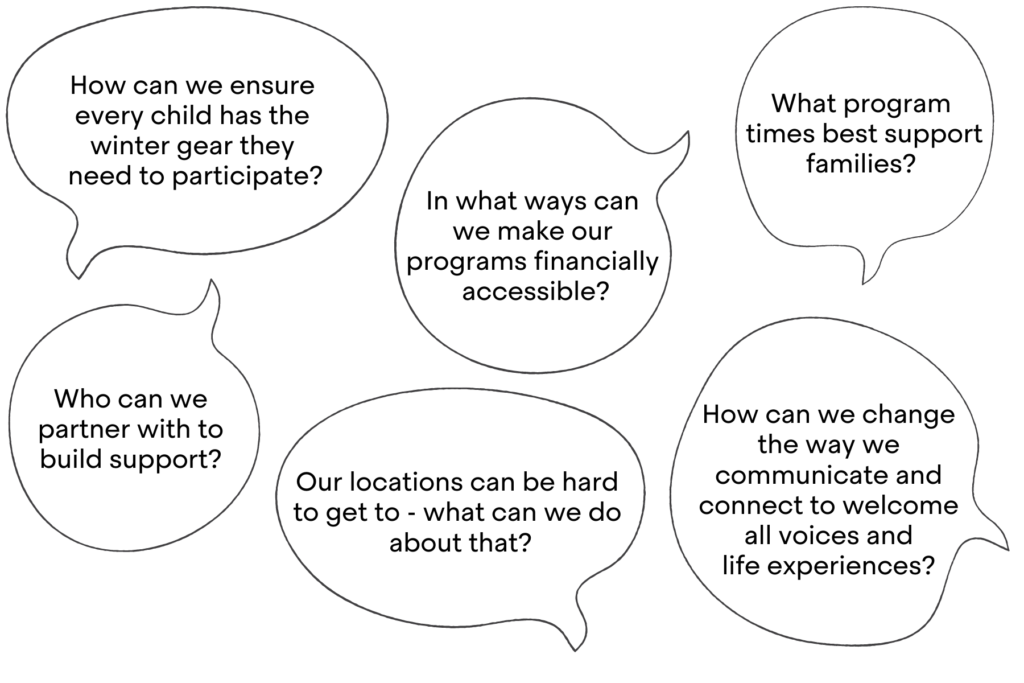 We have a long way to go, but we're committed to continuing to centre these questions in our work. 
Our goal is to raise $40,000 by December 31st to help all children build critical connections. Will you help us? 
There are many ways you can support:
GIVE ONLINE: Donate via credit card, one-time or monthly to have an even bigger impact.
GIVE OFFLINE: Mail a cheque to 276 Carlaw Ave Unit 302, Toronto, ON M4M 3L1
DONATE STOCKS: Get a bigger tax credit and give more by gifting stocks, bonds or mutual funds.
Thank you for being part of the Pine community and helping to bring the magic of nature to all children. We truly couldn't do this work without you.