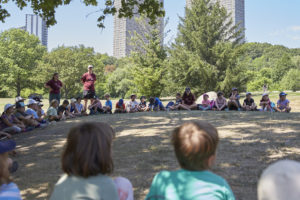 It's not uncommon for someone to ask, "Nature camps sound great, but what do you actually do?" Well, this week I had a chance to join Pine's day camp for an afternoon and I can tell you, campers did a lot. In just a couple hours, they had a chance to:
🔥 Practice friction fire methods like bow drills and test the flammability of different natural materials
🦗 Meet a few cicadas (Have you ever taken a close look at their wings?!)
🎨 Get creative and notice fine characteristics of plants and animals by nature journaling
🪵 Carve wood into spoons or elaborate designs
🏃🏾 Play running games like "Fire in the Forest" (where kids are transformed into animals that must run across the dangerous fiery forest when characteristics they hold are called out)
📖 Gather around for story time
🌼 Compare the scent of different types of flowers
But sometimes they did "nothing" and that was special too. At one point, I came across a group of kids and counsellors laying in the grass, arms and legs wide, admiring the sky. I thought, when was the last time I took a moment to lie in the grass or examine the sky?!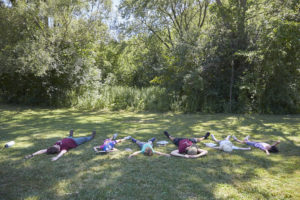 Whether it's practicing survival skills or taking a moment to sink into the surroundings, these little experiences inspire a big love of the outdoors. 98% of parents say that their child's experience at camp strengthened their connection to nature. And over 90% of them say that camp improved their child's social skills, physical and mental health, and personal growth. One parent shared: "Each day she comes back brimming with excitement about new things she has learned about plants, birds, or animals, and with new, unique experiences like rescuing a wounded snake, having a small frog climb up her arm, or capturing an animal track."
In the end, it's all about helping kids get excited about nature and learn to love being outside, and in doing so, empowering them to be thoughtful, caring and confident community members and stewards of the Earth.