Way x̌ast sx̌lx̌̓ʕalt̓ and greetings. Iskʷist Edyn Rebryna -Haughton. Ałi kwu_swiwi-numtax, ałi kwu_suknaqinx, ałi axa/ L/tmxwula/xw.  My name is Edyn Rebryna-Haughton. My ancestry on my Mistm's side is of the Sməlqmix People and Ukrainian. The language of my qáqnaʔ is known as N̓səl̓xčin. The Sməlqmix of the Sukwnaqin-x is affiliated with the Okanagan Nation Alliance and Syilx Nation of the Interior Plateau from Revelstoke, British Columbia, to the northern parts of the Washington State. On my mother's side, my ancestry is of Antiguan, Arawak, and Carib peoples.
Edyn is an Outdoor Instructor at Pine. Listening to and learning from Indigenous voices within our community is a critical part of the reconciliation process. Being in conversation fosters a stronger understanding and respect of Indigenous history, culture, and knowledge. It helps us to build mutually respectful relationships between Indigenous and non-Indigenous peoples. Today she is sharing a story along with resources for those looking for answers to questions about Orange Shirt Day.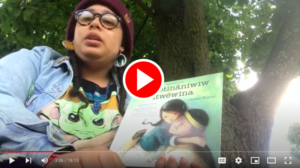 Literature Reference:
kimotinâniwiw itwêwina "Stolen Words"
Written by Melanie Florence and Illustrated by Gabrielle Grimard.
Translated by Dolores Sand and Gayle Weenie
Additional Resources:
https://medicinewheel.education/collections/orange-shirt-day
http://www.fnmieao.com/students/
https://www.orangeshirtday.org/
https://nctr.ca/education/trw/
https://www.northeasthealthline.ca/listservices.aspx?id=10071
https://www.oise.utoronto.ca/deepeningknowledge/Teacher_Resources/Infusing_Aboriginal_Content_and_Perspectives_into_Your_Teaching/Infusing_Aboriginal_Perspectives.html
https://www.otffeo.on.ca/en/learning/otf-connects/resources/truth-and-reconciliation-in-the-classroom/
https://www.otffeo.on.ca/en/learning/indigenous-education/#:~:text=OTF%2C%20as%20the%20voice%20of,matters%20germane%20to%20Indigenous%20education.&text=Indspire%20National%20Gathering%3A%20OTF%20has,pan%2DCanadian%20event%20since%202016.
https://goodminds.com/pages/search-results-page?q=orange+shirt+day