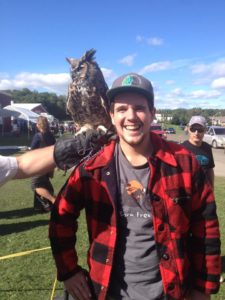 We're thrilled to introduce you to Owain – Pine's new Red Wolf Overnight Camp Manager!
Owain has worn many hats at Pine over the past couple years – he helped to create and teach Pine's Forest School, led a brand new Leaders in Training summer program, and continues to inspire kids at Outdoor School each day. We couldn't be happier that Owain is now donning another hat as manager of Red Wolf Overnight Camp (now registering)! He's excited to re-launch Pine's most transformative program and welcome kids into the woods this summer.
Owain spent his childhood going down every back path and up every tree he could with his three older siblings. While pursuing his degree in Environment, Sustainability & Society and Biology at Dalhousie University, he continued to work in the outdoor recreation industry and play his double bass any chance he got. Owain has been involved with youth groups and environmental education organizations in Canada and abroad. He has worked in classrooms and in the woods, delivering a range of both traditional and alternative programming. His work has included helping to create summer camp programs and leadership courses for organizations in Ontario and Nova Scotia. Now settled back in Toronto, he is busy exploring the beautiful network of ravines and nerding out about our city's precious natural wonders.
Owain is most passionate about working with kids to inspire resilience, curiosity and self-confidence, while always encouraging silliness, kindness and a respect for the natural world. He loves creating fun and novel programming. We can't wait for the fun and inspiration that we know Owain will bring to Red Wolf.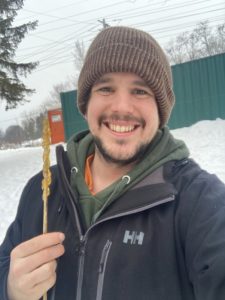 Here are some other fun things to know about Owain:
Growing up, Owain would go to a woodlot near his grandparents farm where him and his siblings and cousins would help his grandpa make maple syrup during the sugaring off season. These woods are now part of a nature trust and provide shade to some of his fondest memories in the outdoors.

Nothing gets Owain more fired up than a game of "Ultimate Tree".

Owain has spent over 300 days paddling a canoe through the rivers and lakes of Northern Ontario, Quebec and Labrador as a white water guide.

Owain is a lover of all things musical and has played his double bass in symphonies and bluegrass bands. More recently, he has been playing his guitar in every backyard and campfire circle he can find.